We all know that a picture is worth a thousand words ~
Nowhere is that more true than with Isagenix transformations. To help you tell the Isagenix story, we have spotlighted one of the most popular sections of
www.WeightLossHallOfFame.net
that we call
QuickPics
.
Quickpics.biz
takes you directly to the QuickPics page ~ so that
you
can easily show your prospects and New Associates the amazing power of Isagenix.
Don't have an impressive before-and-after photo of your own?
Quickpics.biz
features over 50 quick success stories. Each one has great before-and-after shots and a short recap of their Isagenix success.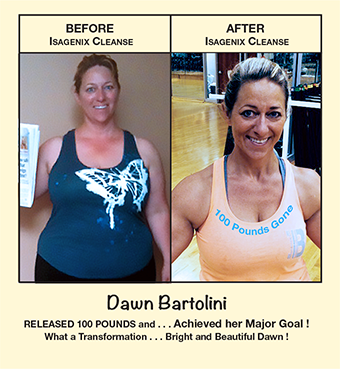 Dawn Bartolini is a great example of the real-life transformation stories you'll find on
Quickpics.biz
. Dawn joined her husband Christopher in the Isagenix 100-Pound Club ~ having each lost over 100 pounds.
Dawn achieved her goal in Isagenix. You and your prospects can see her results and share her enthusiasm in Quickpics.
Make Quickpics.biz
an essential tool
in your Team Toolkit

Remember the key is to "Keep It Super Simple" . . . and your Team members will duplicate better and faster.

QuickPics.biz gives every Associate a library of real-life ~ believable ~ photographic stories about our Isagenix champions.
Don't forget to take advantage of the hundreds of Isagenix personal testamonials on QuickPic's parent site ~ www.WeightLossHallOfFame.net ~
Each one has been carefully selected for the quality of it's photos and story ~ another great tool for you and your Team !
Have fun with this . . .
Start Duplicating TODAY !